Discover more from Tangle
An independent, ad-free, non-partisan politics newsletter that offers both sides of the biggest news stories.
Over 27,000 subscribers
When should we 'reopen' the country?
Plus, a question about Trump's power to defund the WHO.
Tangle is an independent, ad-free, non-partisan politics newsletter that offers both sides of the biggest news stories every day. If you found this online or someone forwarded you this email, please consider supporting balanced, independent journalism by subscribing below:
---
Today's read: 8 minutes.
When can we reopen the country, a question about defunding WHO and an important story about facemasks.
---
This graph.
Submitted by Tangle reader Jonah Adams, showing the percentage of each state's population that has been infected with COVID-19: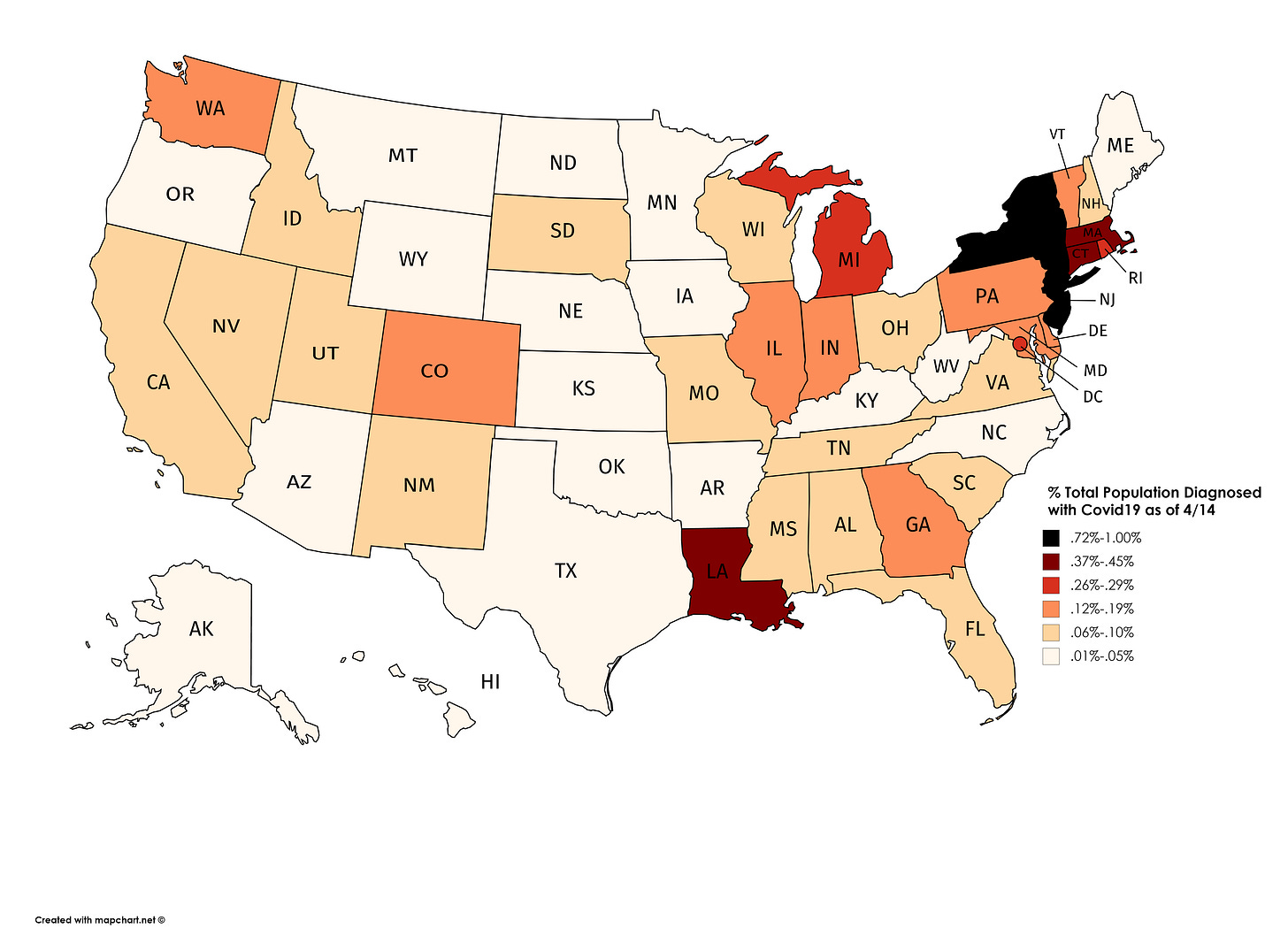 ---
What D.C. is talking about.
Coming back out of our homes. The calls for the country to "reopen" seem to be getting louder. Earlier this week, FEMA and the CDC's plans for how to bring certain low-risk areas back to "normal" were leaked to the press. During a press briefing on Monday, President Trump declared his authority "total" to decide when restrictions will be lifted. Republicans and Democrats pushed back immediately, citing the constitutional authority that states have to make these decisions for themselves. Earlier this week, President Trump revealed his "Opening Our Country Council," which included several companies who did not know they were part of the council until they heard their names read off by President Trump. It's also been called the "Council to reopen America," and that team includes Chief of Staff Mark Meadows, Trump's daughter Ivanka Trump, Trump's son-in-law Jared Kushner, Trump's treasury secretary Steve Mnuchin, the director of the National Economic Council Larry Kudlow, U.S. trade representative Robert Lighthizer and U.S. Secretary of Commerce Wilbur Ross.
Then last night, Trump organized a phone call with top business leaders and CEOs to get their thoughts on "reopening." But he scheduled the call during one of the busiest weeks for earnings reports, and many of the CEOs had conflicting meetings or struggled to get onto the dial-in. The ones who did told Politico they don't understand the administration's attitude about reopening and are becoming increasingly frustrated with mixed messages from the White House. Yesterday, thousands of protesters stormed the state capitol building in Lansing, Michigan after Democratic Governor Gretchen Whitmer expanded a stay-at-home order, announcing a ban on traveling between residences and buying certain goods like home improvement items. Similar protests have popped up across the U.S. in North Carolina, Kentucky and Ohio. Meanwhile, abroad, China and Europe have tried to open up cities but are finding wary consumers scared to spend money or leave their homes.
---
What the right is saying.
For many, it's time to at least have a date. Millions have already lost their jobs, and the prevailing thought is that the economic consequences are far too great. What New York City needs is not what rural Kentucky needs, and it's time we started acting that way. The anger is an intersection of small government fervor (the feds have no right to shut down businesses or places of worship), a distrust of media (the coronavirus was overhyped with panicked predictions of millions dead) and the personal impacts of the economic collapse. Even from a purely health-related perspective, mass unemployment leads to depression, suicide and drug use — something we can expect to see rises in thanks to the shutdown. "There will be no rock concerts or SRO baseball stadiums anytime soon," Liz Peek said in Fox News. "But there can and will be restaurants that serve customers with strict limits on density, and shops that welcome a few buyers at a time. Ideally, this gradual opening will be accompanied by more widespread testing or, better yet, a cure."
Fox News host Steve Hilton has been hammering Republicans and Democrats for the forced shutdown, and also criticized some of the most popular plans for reopening, which include big tech tracking citizens and contact tracing. Hilton says there are far more cases than we know and promoted a proposal from Stanford professors to study antibodies. Hilton's argument is that coronavirus is far less deadly and far more contagious than we think. In The Wall Street Journal, Scott Gottlieb, the former FDA commissioner who has become quite popular on the right, called for mass testing of employees as they come back to work. Gottlieb says testing production is ramping up and businesses can start placing orders for the tests now. That, combined with hand sanitizer and surgical mask supplies, would do enough to mitigate any bounce back as we all came back to work. Others are just calling for an age-related ramp up. Bring the younger people back to work, Lousiana Sen. Bill Cassidy said, and let them build up their immunity and get the economy going while the elderly stay safe at home.
---
What the left is saying.
The economic hardships are not something only the right feels. But the left puts far more emphasis on what the health care experts say, not what the economists say. The left mocked the "council to reopen America" for not having any doctors, nurses or public health officials. It scoffed at Trump's insistence that he has the authority to reopen the country when he wasn't even the one who issued the stay-at-home orders in the first place. There's a much stronger sense of foreboding on the left, one that insists we are going to have our lives changed dramatically for years to come and there is little we can do about it. If we "reopen" now, without a cure, vaccine or a serious reduction in the virus, we'll get the worst of both worlds: economic collapse and a huge, deadly spread of the virus.
In The Washington Post, Eugene Robinson made the argument that opening now would be dumb anyway. "Would you feel safe on a crowded bus, commuter train or subway car?" he asked. "What about in a carpool: How would you feel if someone in the back seat were to cough? If you work in retail, how would you interact with customers? At arm's length, wearing a mask and gloves?" The left's argument is that we need more from the federal government — a Phase Four package to compensate essential workers, the expedition of unemployment benefits, and more money for small businesses to stay afloat. All together. There's also the simple question of "What do Americans want?" 80% of the country has no interest in reopening right now, according to a Fox News poll. Why force people out against their will? Because a few hundred protesters in four states held up traffic for a while? We don't get out of this economic mess by bringing people back to work and getting everyone sick. We get out of it by beating the virus.
---
My take.
In today's political discourse, one of the most popular things to do is to elevate the worst argument the other side is making and then dunk on it. Incredibly, I've seen this tactic used more over the debate on when to reopen the country than just about any other. The left constantly pretends like every Republican is willing to sacrifice old people or those with underlying conditions in order to save the economy. The right pretends the left is perfectly happy taking government checks and has no business acumen. Neither is true — and the fact that those arguments are getting so much airtime is exactly why I created Tangle.
Instead, the arguments presented above are actually both quite reasonable. The correct answer, I think, has come from the real experts in their fields: the business leaders and CEOs who are consulting Trump and the health care experts and governors who are criticizing him on Twitter are actually saying similar things. Here's the gist: if we want to rescue the economy, if we want to beat the coronavirus, we have to take the big hits now. It sucks and it's terrible and a lot of people are going to suffer. There are no good options. But what good would it be to flip a switch on now and turn things back on tomorrow? The country is paralyzed by fear. Lifting stay-at-home orders would do little, especially when everyone has access to their own information. Take this quote from the CEO who spoke to Politico anonymously in a story about how getting the virus under control and alleviating fear will save the economy:
"I really don't understand how they are communicating on this… He's [Trump] got to stop talking about turning the economy back on and start talking about making people feel safe, things that are happening around testing and the health care system. That's the only way you will really get the economy reopened over a period of time."
Our reality is that the answer to saving the economy and beating the virus is the same: we have to eliminate the fear. And in order to eliminate the fear, we need mass testing, we need progress on a cure and we need everyone to understand who is sick. Nobel laureate economist Paul Romer estimates that producing and distributing 35 million tests a day would cost $100 billion. It's an incredible amount of money, but it's a fraction of the $350 billion the economy is bleeding a month with everyone stuck at home. If U.S. citizens are confident that coronavirus-positive Americans are isolating at home and the people they're encountering at bars, restaurants and other crowded spaces are healthy, we may actually be able to get back to normal. But until that becomes our reality, lifting stay-at-home orders won't bring enough people outside to save your local pub. And it won't bring back the American consumer who's crucial to saving jobs.
---
Following up.
Yesterday, I wrote about Trump's decision to cut funding for the World Health Organization. Today, The New York Times blasted out this push notification: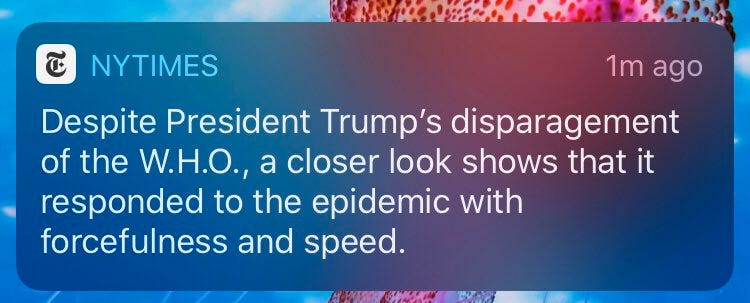 I actually hate this headline and this framing. It makes the New York Times story seem as if it's contradicting Trump's side, which it really doesn't. The heart of the story actually comes in the third paragraph: "Those early days of the epidemic illustrated the strengths and weaknesses of the W.H.O., an arm of the United Nations that is now under fire by Mr. Trump, who on Tuesday ordered a cutoff of American funding to the organization." That's the truth. This all illustrates the complex workings of the World Health Organization, which relies on other nations to cooperate with it and forces it into politically precarious positions (like maintaining a good standing with China while simultaneously trying to investigate it). You can read the NYT story here.
---
Your questions, answered.
Reminder: Reader questions are a big part of Tangle. To ask a question, all you have to do is reply to this email and write in. Give it a try!
Q: Can you explain how Trump can cut WHO funding on his own? Isn't that money appropriated by Congress?  
— William, Boston, MA
Tangle: That's a question a lot of people are asking. The short answer is: he can do it but he's got to get creative, and it won't be easy.
The longer answer is that it's unclear whether Congress can stop him, but the money will likely have to be spent somewhere. When Trump paused hundreds of millions of dollars in funding to Ukraine, part of what led to his impeachment, the Government Accountability Office (GAO) determined it was illegal, saying a president cannot "substitute his own policy priorities for those that Congress has enacted into law." That's why Evan Hollander, a spokesperson for the House Appropriations Committee, almost immediately came out and said this was illegal: "In a desperate attempt to deflect blame, President Trump is violating the same spending laws that brought about his impeachment."
From the White House's perspective, it's a bit different. The 2020 fiscal appropriations law that calls for the World Health Organization spending doesn't actually specify the money go to the WHO, as weird as that is. It calls for funding to "necessary expenses, not otherwise provided for, to meet annual obligations of membership in international multilateral organizations." The White House is arguing it can spend that money as it sees fit — and it may just reallocate the money to different, smaller global health care companies.
At the same time, the president and his team actually put together their own pandemic response plan in 2017 that calls for money going to WHO specifically. Or at least "continued support." The U.S. contributes more than $400 million per year to the WHO, so it's also possible the Trump admin reduces funding but maintains "continued support" — both following through on the president's threat and not violating its own standards or plan.
In this CNN story, they do a great job breaking down the battle ahead with Congress. From what it sounds like, the White House is planning to pause whatever annual money it hasn't sent to WHO and "reprogram" it, which means they're going to spend it on what I imagine are parallel organizations. About half the 2020 funding for the WHO is yet to leave the building, so it would be holding back hundreds of millions of dollars. Typically, Congress signs off on reprogramming, but that's apparently not required by law — it's more of a tradition. Congress can limit the White House's moves on future appropriations bills, but there isn't much they can do now — save one option: bipartisan legislation to stop him.
That would require a significant number of Republicans in the House and Senate bucking the president. That kind of cooperation amongst Democrats and Republicans is rare enough as it is and seems extremely unlikely given the partisan divide on this issue. I'm sure Democrats will do their best to put up a fight, but I don't know how much teeth they have given the circumstances. There's also the question of The CARES Act, which called for an extra $1.5 billion in foreign aid to fight COVID-19. Much of that money was expected to go to the WHO. That seems unlikely now.
So, can Congress stop him? Yes. Will they? I very much doubt it.
---
A story that matters.
Last night, New York Gov. Andrew Cuomo ordered all New Yorkers to wear face coverings in public when they can't remain six feet apart. Cuomo won't be enforcing the guidance with fines or penalties but seemed to indicate that if New Yorkers don't follow through he's willing to go that far. "People will enforce it. They'll say to you, if they're standing next to you on a street corner, 'Where's your mask, buddy?' in a nice New York kinda way," he said. The order comes after the president suggested people wear face coverings while going outside and comes as Los Angeles County issued a similar order to its citizens. In LA, officials say it's okay not to wear face coverings while on a solitary walk, run or in your own backyard. However, Los Angeles County did make the facemask order part of their stay-at-home order, meaning they could fine or penalize people for violating it. This kind of guidance seems like it's spreading quickly, and it may be coming to a town near you — if it hasn't already. In other countries, especially in parts of Asia, face coverings and masks are common due to pollution or past pandemics. But with more of these orders in effect, America could be headed that way. It's a particularly bizarre conundrum given that some states, like Florida, actually have laws on the books explicitly prohibiting face coverings or masks in public. Click.
---
Numbers.
---
Don't forget.
Besides subscribing, the best way to support Tangle is to share it. I rely on my readers to spread the word, and I'd be incredibly grateful if you took a few seconds to forward this email to friends or posted about Tangle on social media.
---
Have a nice day.
Saturday Night Live host Michael Che said he was paying one month's rent for the 160 apartments in the building where his late grandmother lived. Che's grandmother died after contacting coronavirus. "It's crazy to me that residents of public housing are still expected to pay their rent when so many New Yorkers can't even work," Che wrote in the post. "Obviously I can't offer much help by myself. But in the spirit and memory of my late grandmother, I'm paying one month's rent for all 160 apartments in the NYCHA building she lived in." Click.